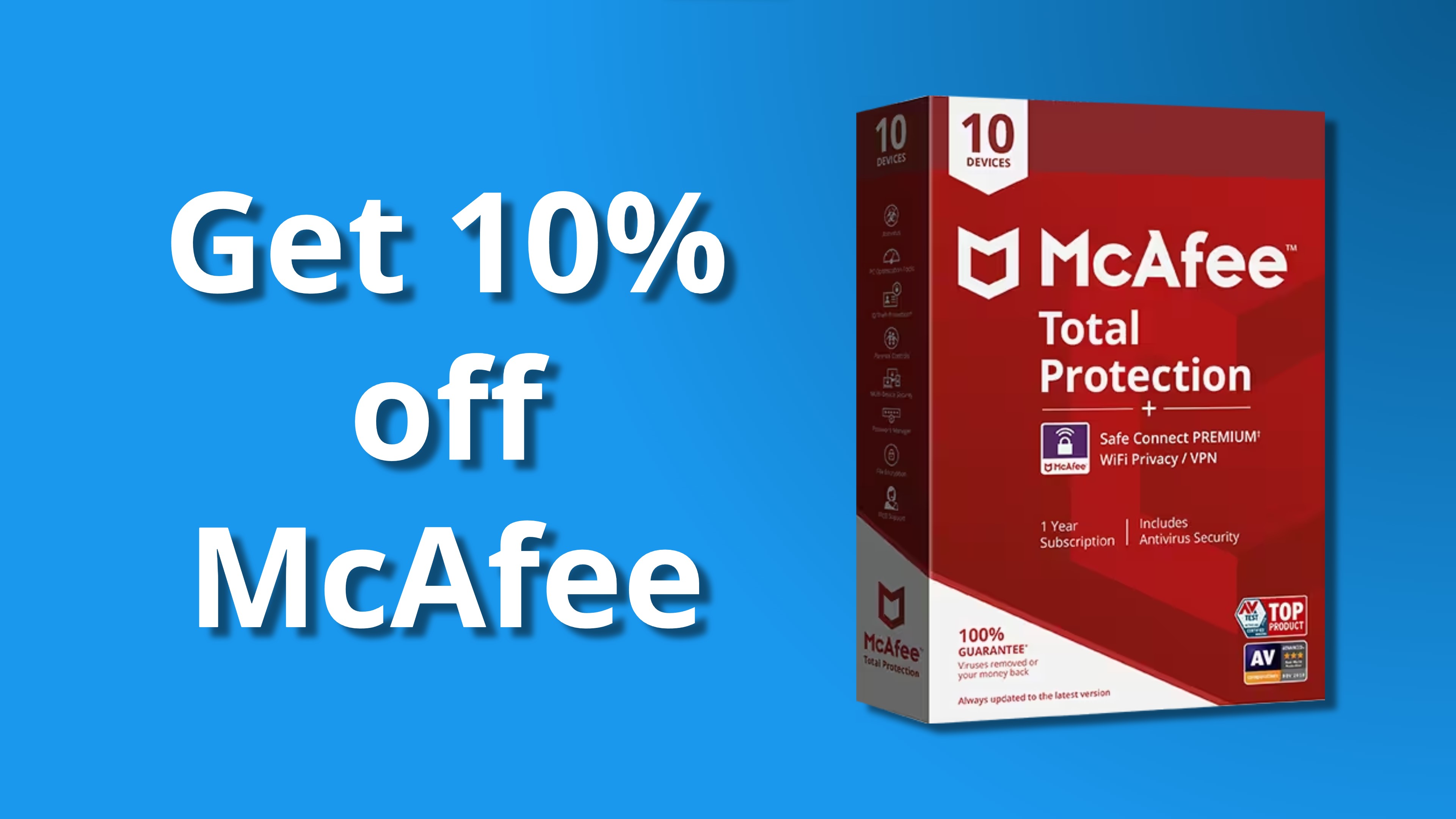 Threats to your digital security are lurking out there on the internet—and they get smarter and smarter each year. McAfee is one of the best antivirus solutions on the market, however, with privacy-enhancing tools designed to keep you safe from these nasties. So, you'll want to make the most of this discount on McAfee+ plans.
You can save 10% on Advanced and Ultimate plans, and features that'll safeguard against fraud, malware, and opportunistic cybercriminals. But don't delay, this offer only runs until 15 September.
Individual subscriptions are designed for one user, as you might expect, and you can pick up an Advanced plan at $69.99 a year or ramp things up with an Ultimate plan available at $159.99 a year—discount included. Need to cover more devices? The family subscription has your back with protection for up to two adults and four children. Advanced plans come in at $94.99 a year, and Ultimate plans at $199.99 a year.
McAfee is a name that's become synonymous with protection for a reason—very few competitors can match it in terms of security quality features. Don't miss out on your opportunity to experience a premium antivirus solution, and all of its extras, at a reduced cost.
McAfee+ plans – which one to choose?
Not sure whether you should go for an Advanced or Ultimate subscription? Both plans offer real value for money (and even more when you factor in the 10% discount), but there are a few differences in terms of what you get.
Of course, you'll have access to the privacy-enhancing tools that have made McAfee a titan in the world of digital security. Advanced plans even have financial security tools, where McAfee will keep an eye on your transactions and let you know if anything seems shady. This is on top of an antivirus suite, a password manager, and even an unlimited VPN.
All of this, and more, is included in an Ultimate plan. Opt for it, and you'll get advanced functionality like a credit lock, payday loan monitoring, and alerts if your contact information changes at your back—tools that can prevent your sensitive details from falling into the wrong hands.
Why is this McAfee+ discount such a big deal?
Even if you're not a cybersecurity guru, you're bound to have heard of McAfee. The company has made a name for itself with a huge array of antivirus products for just about every device and use case you can imagine. Personally, I like the McAfee+ plans because they take the best features, and the best prices, and package them together for your convenience.
As I mentioned earlier, you'll also get access to the McAfee VPN—and that's a big deal. The VPN will encrypt your internet connection and allow you to go about your browsing with peace of mind. Snoopers, trackers, third parties: none of them will be able to see what you're doing, the pages you're visiting, or the details you hand over to banking and shopping sites.
A VPN can also expand your digital horizons with a fleet of international servers. The best streaming VPNs unblock the biggest and best content platforms out there—like Netflix and BBC iPlayer—and some torrenting VPNs even have dedicated servers for P2P traffic.
Subscribe if:
 ✔️ You want access to a variety of tools: you'll be spoiled for choice when it comes to privacy features that keep your browsing activity, financial transactions, and passwords secure.
✔️ You need coverage for the entire family: Advanced and Ultimate Family plans both offer licenses for up to six people.
✔️ Personalized plans are a must-have: with its Protection Score tool and digital health checks, McAfee can provide customized security advice to you and your family.
Finally, let's shine a spotlight on McAfee's powerful antivirus suite. These tools are included in your subscription, regardless of which one you pick, and act as the shield between your devices (and the personal details stored on them) and dangers like viruses, malware, and spyware.
Why is this so important? Well, think about how much of your information is out there on the internet. It increases every time you sign up for an online account—and the more accounts you make, the more likely it is that one of them will fall prey to a data breach. Luckily, McAfee's Online Account Cleanup feature identifies which companies are storing your data, and which ones you can and can't trust, and helps you tackle risks to your privacy head-on.
I like the password manager, too. I'm constantly telling friends and family to switch up their log in information on a regular basis, and the McAfee password manager makes it easy to do just that. You can generate and store strong passwords, and even have McAfee auto-complete forms so you don't have to remember them yourself.
Keeping your children secure is just as straightforward with parental controls. It's possible to prevent kids from accessing inappropriate content, set screen time limits, and receive alerts if they happen to stumble across a malicious link.
You can install any McAfee+ plan on all of your devices—Windows, Mac, Android, and iOS included. The apps are all pretty intuitive, even for beginners, but help is available (24/7 in English-speaking countries, 9 a.m. to 6 p.m. during business days around the rest of the world) if you need a hand figuring out some of the more advanced features. Just open up a live chat to be paired with a friendly agent who'll point you in the right direction.